Sunshine in your hair, tiny crumbs of dark earth beneath your fingernails, the buzzing of a bee as it flits about from bloom to bloom.  It's the time of year that avid gardeners dream about.  Welcome to the perfect days of mid-June.
However, it goes without saying that summer 2020 is unlike any we have witnessed in living memory.  Backyards and patios are open, but our summer pastimes have been placed on hold.  As the country struggles with a new illness and old racial unrest, I've turned to my veggie plot to keep me grounded (literally).  As I struggle to understand my place in this new world, the silence of the garden provides me a place to think.  I take in the fresh air, let go of my fears.  I find solace that even amid the uncertainty, basic truths still stand.  The earth is fertile and the clouds bring rain.  The number of new flower containers and veggie plots in my neighborhood makes me wonder exactly how many folks out there are feeling the same pull towards nature.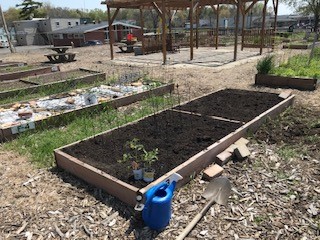 It's possible you're one of those people.  Perhaps you have fond memories of a grandparent growing loads of fragrant basil, or biting into a fresh picked raspberry and having it stain your fingers red.   Or maybe you just need a new hobby since sports are canceled.  Regardless of your motivation, Zen or otherwise, it's not too late.  Even if you aren't ready to commit to an entire plot or raised bed, a single tomato plant grown in a container can provide you with a sweet burst of pure deliciousness.  Just as rewarding is the pride that comes from nurturing a plant from seedling to harvest. 
What You'll Need:
A sunny spot

Water

Soil

A container for the soil (if you're not planting directly into the ground)

Seeds or veggie plants  
Best plants for you to grow:  
Grow something you will eat.  Many beginner gardening articles praise the ease of growing radishes or starting onions from sets (that's the lingo for baby onion bulbs).  Forgive me, but I've never been excited to eat either one of those on their own.  They have their place in the kitchen, but they are never going to inspire the next generation of home gardeners.
Ivy's recommended plants for beginners:
TOMATOES.  Once you've grown your own tomatoes, you will never want to eat a hothouse grown fruit ever again.  Now that the night-time temperatures are above 50 degrees, this is a great beginner option.  While it's too late in the year to plant seeds, your local greenhouse or home improvement store should still have a nice selection of plants.  Look for plants with fresh green leaves near the top.  Tiny yellow flowers mean you'll have a harvest sooner than later.  If the plant seems rather tall, or leggy, don't fret.  Run your finger along the stem.  Feel those tiny hairs?  If you plant that stem deep into your soil, they will turn into roots.  More roots lead to more flavor.  
ZUCCHINI.  This versatile vegetable is very easy to grow, as long as you have enough space.  Zucchini can still be started by seed for another week or two.  Otherwise purchase a small plant and expect it to quadruple in size over the next two months.  Zucchini can be eaten raw or cooked, turned into noodles, and roasted nicely in the oven or on the grill.  The yellow flowers are also edible, and considered a deep fried delight in the Italian countryside.
HERBS.  Basil, parsley, cilantro, mint, and sage are all quite easy to grow in a container.  If you happen to have a sunny spot near your kitchen, it's very satisfying to go outside and pick your ingredients leaf by leaf.  Just keep in mind that mint is invasive, so don't plant it directly into the ground.
If you discover you have a green thumb,  BALibrary is here to help.  We have a wide range of gardening titles that you can put on hold and pick up in the parking lot starting June 15th.  Are you a visual learner?  We have streaming video options as well!  Kanopy has a six episode series of The Great Courses', "How to Grow Anything".  For those of you that prefer e-books, don't fret.  We've got you covered with Overdrive.
Happy Gardening!
---

  Adult Services Assistant Librarian Ivy Dally