Welcome!
The Youth Services department is located on the first floor of the Barrington Area Library.

The Library building reopened to the public on Monday, July 27. The Youth Services play area, interactives, computers, and iPads are available at this time. We hope your family will visit us to enjoy browsing for books and movies you can take home and share with each other. We will continue to offer a wide variety of online story times, events, and also outdoor story times, Take And Make Kits, and other surprises - watch the Events Calendar! Contact us for more details.
---
Read our latest blog post
2020 Summer Reading Update
2020 Summer Reading has been going great so far and we have gotten so many great responses. With a few weeks left of 2020 Summer Reading here is an update on what some of your fellow readers, and pre-readers, have been doing this summer!

Book Reviews 
| | |
| --- | --- |
| Maps by Aleksandra Mizielinska, Daniel Mizielinski | "I love this book because I love learning about the world and all cultures. This book is easy to read, love the pictures and all the information about the countries." - Maximiliano, 7 |
| From Me to You by K.A. Holt  | "There was a girl her sister Clara died. At the beginning of 8th grade Amelia accidentally recives a letter that Clara has written to her self. On the list was all the things Clara wanted to do just in time before the 8th-grade year ends, but Clara never completed the list. Amelia think if she finishes the list for Clara will her heart stop hearting? You guys have to read this book this book is mostly about friendship breakups and boys. I hope u guys love this book. ?" - Hiba, 11.5 |
| Dog Man Fetch 22 by Dav Pilkey | "Dog man fetch 22 is for all ages 1- 100. It is a very funny book. You also can read it to your dog, cat, child or kid." - Leela, 8 |
| Theodore Boone: Kid Lawyer by John Grisham | "This book was very good. It is thrilling and it is a good book for a person who likes mysteries and law." - Colin, 12 |
| TBH, I Feel The Same by Lisa Greenwald | "This was a really interesting book. It's about 7th grade girls who are friends. They go away on a school trip. I liked it because I didn't know what was going to happen next. I didn't know if they were going to have the same cabin bunk or if they were going to win the swim meet. I highly recommend this book." - Caitlin, 9.5 |
Activity Responses
Find out what some of your fellow readers have been doing to complete activity challenges this summer! Have you found all 5 iguanas hiding outside the library yet?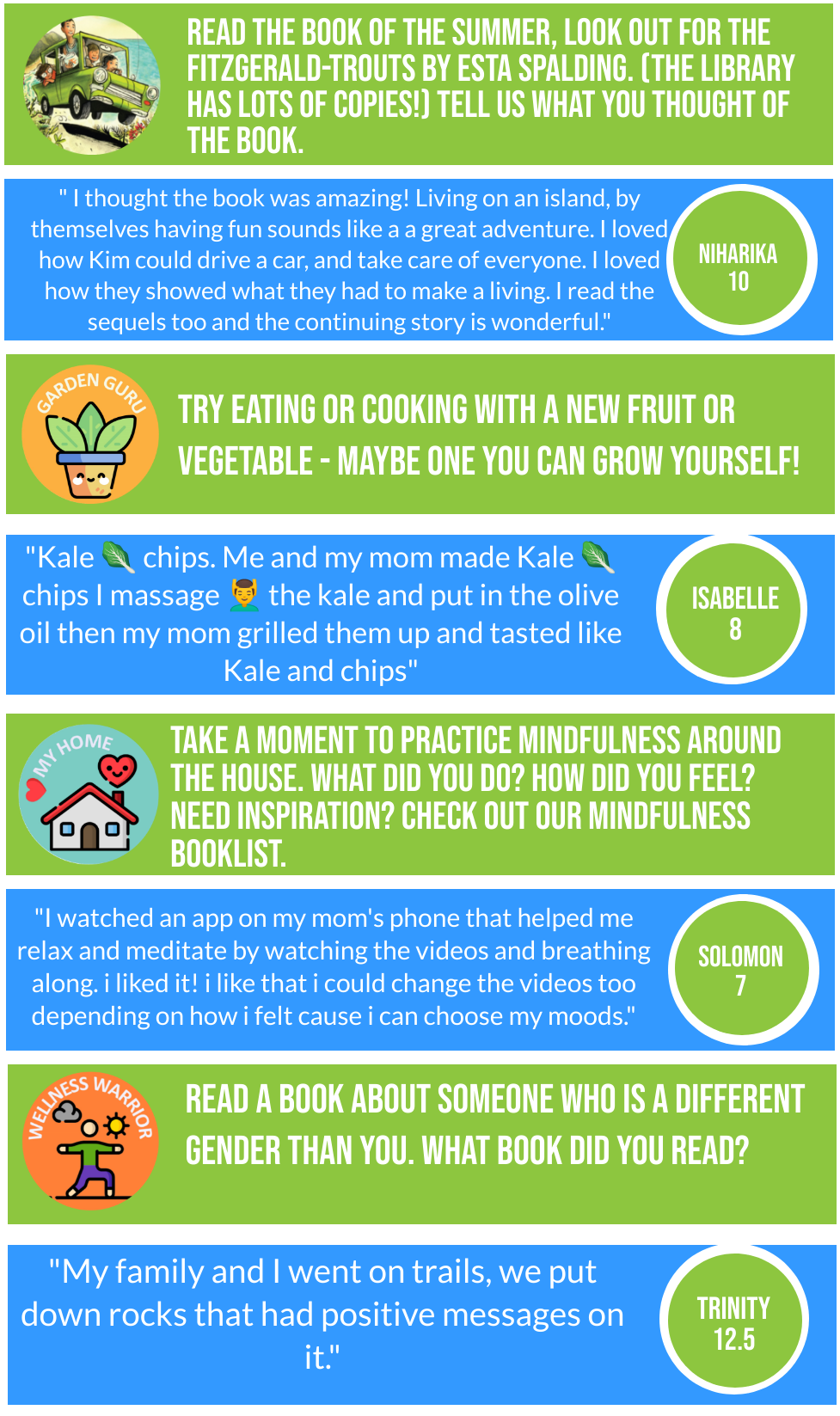 Prize Updates
There are still plenty of days left to enter our Summer Reading Prizes! Here is a glimpse of how many tickets are entered in the grand prizes.
Pre-Readers Grand Prize:
16 Tickets Entered

 
Readers Grand Prizes:
| | |
| --- | --- |
| | 173 Tickets Entered |
| | 688 Tickets Entered |
Remember to enter in weekly drawings for some amazing gift cards for places around Barrington. Keep up the great reading everyone!
Take a Mindful Moment: Imagine you are holding your favorite flower. What is it? What does it smell like? Who would you give it to? 
---

  Youth Services Assistant Librarian MaryJo Nitz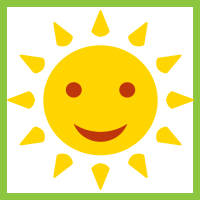 You've found the Secret Code!
CREATE JOY