Welcome!
The Youth Services department is located on the first floor of the Barrington Area Library.

The Library is open again for "browse and borrow" services. Visit our web site for new, temporary, in-person service hours and other important details. All visitors over the age of two years old must wear a mask covering the mouth and nose while in the Library or attending outdoor events. We will also continue to offer a wide variety of online story times, Take And Make Kits, and other surprises - watch the Events Calendar!  

Contact us  - we're happy to help!
---
Read our latest blog post
May the Fourth Be with You! Celebrate Star Wars Day with These Great Titles
No Jedi mind tricks necessary -- these are the books you're looking for.
The following titles are available at the Barrington Area Library.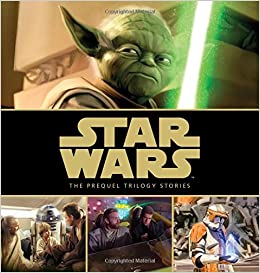 Star Wars: The Prequel Trilogy Stories
Various writers; illustrations by Brian Rood
Your little Star Wars historian can read great stories by Elizabeth Schaefer, Ivan Cohen, Rebecca L. Schmidt, and others, brought to life by long-time franchise illustrator Brian Rood. From a tense podrace to a deadly duel with the villainous Count Dooku, experience the prequel trilogy in this kid-friendly format.
The Clone Wars: Ahsoka in Action!
Written by Jon Richards
Anakin's padawan, Ahsoka Tano, springs into action against the deadly droids of the Trade Federation. Meet other great Clone Wars-era characters in this Level 1 beginning reader.
Star Wars: Jedi Academy
Written and illustrated by Jeffrey Brown
Star Wars and Diary of a Wimpy Kid fans alike will enjoy this silly retelling of the Star Wars saga… with a twist! Follow Jedi trainee Roan's wacky misadventures through school -- lightsaber duels, baking soda volcano disasters, and awkward slow dances await.
First in a series.
I Am a Princess
Written by Courtney B. Carbone
Illustrated by Heather Martinez
Fans of Little Golden Books will adore this picture book retelling of the Original Trilogy from the perspective of Leia Organa, Princess of Alderaan. Follow Leia's journey from the Tantive IV to her adventures aboard the Millennium Falcon.
Are You Scared, Darth Vader?
Written and illustrated by Adam Rex
Witches? Ha! Ghosts? Don't make me laugh. Darth Vader isn't scared of anything!
...Right?
Trapped in the Death Star!
Written by Michael Siglain
Art by Pilot Studio
Oh, no! Luke, Leia, Han, and Chewie are trapped in the Galactic Empire's terrifying superweapon, the Death Star! Can they use their bravery -- and wits -- to escape?
Level 2.
The Mighty Chewbacca in the Forest of Fear!
Written by Tom Angleberger
Illustrated by Andie Tong
What started as a simple cat-sitting job has turned into a real headache for everyone's favorite fuzzball! Join Chewbacca as he fights off strange monsters, uncovers hidden treasure, and rescues his best pal Han Solo.
Guardians of the Whills
By Greg Rucka
When the Empire destroys the Jedi Temple on Jedha, best friends Baze and Chirrut must band together to save their people. This book for upper elementary readers serves as a prequel to Star Wars: Rogue One.
The Galaxy Needs You
Written by Caitlin Kennedy
Illustrated by Eda Kaban
It doesn't matter who you are or where you're from -- you have it in you to be a hero! Follow Rey as she gears up to save the galaxy from the First Order in this companion to the Sequel Trilogy.
BB-8 on the Run
Written by Drew Daywalt
Illustrated by Matt Myers
Poor BB-8! He's been separated from his best buddy, hotshot pilot Poe, and now he's stuck on Jakku! Will our little droid find his way home?
Adventures in Wild Space, Book 1: The Snare
By Cavan Scott
First in a series. After Milo and Lina's parents are abducted by the Empire, the kids set out on an epic adventure to rescue them. Explore the farthest edges of the galaxy in this amazing series!

Tip: Want personalized reading suggestions? Fill out this form and you'll receive a customized list direct to your inbox!
---

  Youth Services Librarian Chris Confer