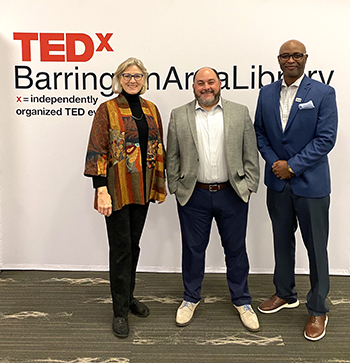 If you weren't able to join us for our seventh annual TEDxBarringtonAreaLibrary on Wednesday, November 10, 2021, we're pleased to announce that the videos are now available for online viewing! Learn more about our featured speakers and then follow the links to their videos.
Rev. Jeanne Hanson, retired Executive Director of Samaritan Counseling Center of the Northwest Suburbs: "The Power of Connection"
Rafael Malpica, Director of Hospital Programs at Advocate Good Shepherd Hospital & Advocate Condell Medical Center: "That Doesn't Happen Here: Moving From Denial To Impact"
Nathaniel Rouse, Director of Equity, Race & Cultural Diversity Initiatives at Barrington 220 School District: "The Importance of DEI Work in Schools and the Impact on School Communities"
If you aren't familiar with TEDxBarringtonAreaLibrary, it is a locally organized version of TED, the series of inspiring talks meant to inspire and engage. Download and read the biographies of this year's speakers here. We encourage you to watch, listen, share, and discuss this year's videos with other community members!