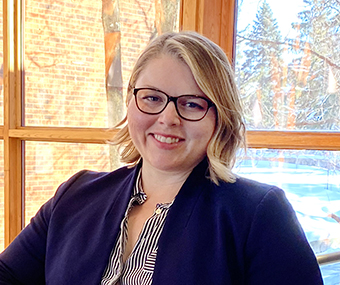 Vicki Rakowski, new Executive Director of the Barrington Area Library
Vicki Rakowski, current Head of Operations for the Barrington Area Library, will step into a new role as the Library's Executive Director on February 13. She will replace Jesse Henning, who has served as Executive Director since April 2018. Henning is leaving the Library and heading to Denmark to pursue an exciting opportunity for his family.

"We are very pleased to name Ms. Rakowski as our new Executive Director," said Library Board of Trustees President Don Minner. "With her knowledge and experience, we expect that she will step into the role seamlessly while providing the leadership to ensure that our talented and dedicated staff continue to meet the varied needs of our patrons and community."

Rakowski has been in the library profession for 13 years, receiving a Masters in Library and Information Science from Dominican University in 2010. She began her career in Youth Services, then moved into a series of management positions, joining the Barrington Area Library team in January 2017. As Head of Operations in Barrington, she has overseen the Customer Service, Material Services, and Building Services departments, and served as Interim Director from October 2017 – April 2018. She also has an MFA in Creative Writing from Western Michigan University.
"I am truly honored to be the next director of the Barrington Area Library. I look forward to leading our staff through the difficult times we face at present, as well as the challenges and opportunities in our future. The four years I have spent in this organization have shown me time and again that this is a special library in a special community. I am proud to continue my work here in this new role."
Rakowski is an avid reader and gardener. She is a lifelong resident of the Chicago area, and currently resides with her husband in Oak Park.
The Library and its Board of Trustees extend their sincere gratitude to Henning for his leadership and service, which included significant achievements such as the elimination of overdue fines, the completion of critical maintenance projects for the building and campus, and the introduction of updated library policies to expand access to more area residents.
Board President Minner stated, "While saddened that Director Henning is leaving us, we extend our best wishes for success in his next endeavor and thank him for his many accomplishments, guidance to our staff, and efforts for our district."
"It has been an honor serving this community," said Henning. "From my first day on the job, I have been awed and amazed by the level of civic and social engagement among Barrington area residents and how this library plays an important role in supporting that community spirit. I am proud to have worked with a staff so fiercely dedicated to providing efficient, effective, and transformative library service. The Barrington Area Library is truly a special place and I am glad to have played a part in writing its story."