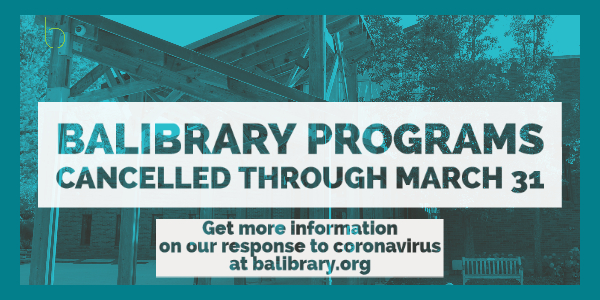 March 20, 2020:
Important News Regarding the Barrington Area Library's Response to COVID-19 (coronavirus)
The Barrington Area Library places the highest value on providing a safe and healthy environment for all customers and staff. We care deeply about the residents of the communities we serve, especially seniors, people with underlying conditions, and others who are at greater risk. Keeping those priorities in mind, we ask you to please note the following service changes:
➠ Friday, March 13 - 31, 2020: all Library programs will be cancelled.

➠ Friday, March 13, 2020: all toys and high-touch interactives, including the iPads and blue blocks, will be removed from the Youth Services department until further notice. The Youth Services and Young Adult Game Rooms will be open as work/study space but no gaming equipment will be available.
These precautionary changes are based on guidelines from the Illinois Department of Public Health, which cite social distancing and event cancellations as effective means for preventing the spread of disease.
We advise all customers who are not feeling well to stay home and focus on their well-being. The BALibrary.org website is open 24/7, with tens of thousands of e-books, e-audiobooks, digital magazines, streaming movies and shows, and online research databases available with just a few clicks and a Barrington Area Library card. Now is an ideal time to explore our very popular digital resources.
Concerned about returning your Library materials while you're at home? No worries. Just give us a call at 847-382-1300 or chat with us online – we're here to help.
We will continue our rigorous and increased schedule of cleaning and disinfecting throughout the building. Hand sanitizer and disinfecting wipes are available to all customers.
We will continue to closely monitor information on COVID-19 from the Centers for Disease Control and Prevention and state/county health departments. Our response will undoubtedly continue to evolve based on that information, and we will keep you informed via our website (balibrary.org), social media channels (Facebook and Twitter), and e-mail newsletters.
We encourage all community members to seek out reliable, factual information about coronavirus disease. The following websites are helpful resources for staying informed.
Centers for Disease Control and Prevention, "Share Facts About COVID-19"
Illinois Department of Public Health, "Coronavirus Disease 2019 (COVID-19)"
Lake County, IL, Health Department, "COVID-19"
Cook County Department of Public Health, "Novel coronavirus"
Village of Barrington, "Information about the Coronavirus (COVID-19)"
World Health Organization, "Novel Coronavirus 2019" website