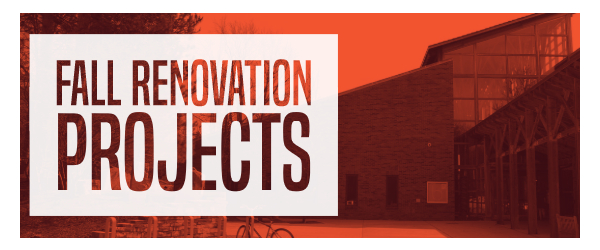 UPDATE: The Library's upper parking lot will be closed on Tuesday, Oct 15, until approximately 2 PM. Heavy construction work will be taking place on the southeast end of the building, requiring additional space for construction vehicle traffic. Please park in the lower lot, and use caution when driving or walking near the construction zone. The renovation projects are going well and are on schedule - stay tuned for more updates.

Renovation and maintenance work on the Library's façade and windows and the installation of a new cooling tower will begin in late August 2019. The work is expected to last into late fall/early winter, but weather and other factors may cause delays. The Meeting Room and Zimmerman Room will not be available during this time, so please note that many fall programs will take place in locations around the community. We apologize for any inconvenience while these essential projects are completed. Watch our social media sites for updates.
Projects that will be completed this year:
• Refinishing of the wood around the Atrium and Meeting Room windows and replacing window seals and damaged windows. Many of the windows leak during heavy rains, and the leaks also cause the Atrium to be quite cold during the winter months.
• Refinishing of all of the teak wood on the outside of the building, including the front walkway canopy and exterior doors.
• Repair of the masonry on the outside of the building.
• Reinforcing the ceiling in Administration, installing the new air conditioning chiller on the roof, and demolishing the cooling tower behind the upper lot. The current cooling tower is at end of life, and must be completely replaced.
These projects are being paid for from existing funds in the Library's Capital Reserve Fund.