Thanks to all participating businesses! This promotion has now ended.

---
September is National Library Card Sign-Up Month, as designated by the American Library Association. While residents of the Barrington Area Library district may apply for a card at any time, and a library card always brings value and savings into your household, the library likes to offer extra encouragement during the month of September. This year, we've come up with something new and exciting for those who sign up for a new card, who renew an expired card, and even for those who have cherished their BALibrary card for years.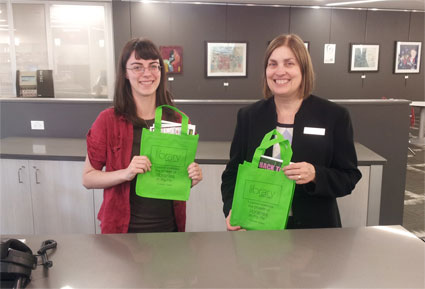 Kelly and Laura are ready to give you your library tote bag full of valuable coupons when you sign up for a library card - this month only, while supplies last

Beginning Tuesday, September 2, 2014, patrons who sign up for a new Barrington Area Library card or who renew an expired Barrington Area Library card will receive a mini library tote bag and library pen. In addition to being a great place to tuck in your library books, movies, and CDs, this bag is also stuffed with valuable coupons from a huge variety of local businesses! Participating businesses* include:

• Allure Massage Spa
• B. Chones
• Barrington Bank and Trust Company, N.A.
• Barrington Martial Arts
• Calibre Coffee
• Calico Corners
• Carol & Company
• Clarke's Bakery & Deli
• Cooper's Pizza | Big Iron Horse BBQ
• Cory Cosman @ Properties.com
• Costco Wholesale
• Frantonio's Italian Deli & Café
• Georgio's Pizzeria & Pub
• Grassroots
• Hair By Justyna Salon
• Heads Up Boutique
• Holistic Acupuncture
• Huntington Learning Center
• JC Licht | Epco Paint & Decorating Center
• Jennifer Michaels Hair Studio
• Kaleidoscope School of Fine Art
• McDonald's
• Meatheads
• Nature's Select Premium Pet Products
• Norton's U.S.A.
• Peaces Art & Adornment
• Savvy Spirit
• Solisq
• T.T. Patton
• Tootsies Shoes
While we want to welcome newcomers to the library, and those who may have let their card membership expire, we also want to reward long-time customers. So, we'll be giving away an additional 50 tote bags with coupons to current BAL cardholders who enter their name, card number, and contact information into the online form below. One entry per card number, please. Drawings will be held on Friday, September 5, Friday, September 12, and Friday, September 19.
Great deals don't last forever, and this offer ends after we've given away 250 mini tote bags. If you want yours, get here soon to sign up for a card or to renew your card. Current cardholders - the earlier you enter your information into the contest form, the better your chances of winning! Happy National Library Card Sign-Up Month from your friends at the Barrington Area Library, and THANK YOU to all of these generous local businesses who participated.
*Please note: due to varying numbers of coupons that were donated, some bags may not contain coupons from every listed business. For the biggest and best selection, get your card soon!