The recent news that the migrating monarch butterfly is now classified as an endangered species has spurred new interest in cultivating plants and spaces that can host and feed our pollinators. Even small spaces can make a big difference, so consider creating a small pocket pollinator garden or prairie space. To start, you'll want to mow your grass as short as possible. You can find great native seed mixes at Prairie Moon; just make sure that you select the right seed for our region (zone 5b) and how much light your space gets. Seed mixes generally have good instructions; you'll notice that many of them encourage you to mix them with sand and broadcast by hand. This helps to ensure an even distribution of your seed. Because seed is basically designed by nature to be light and mobile, it's helpful to add a light layer of mulch to retain moisture and hold it in place. Fall is an excellent time to do this work, since many native seeds need to cold stratify (basically, go through freeze/thaw cycles) to germinate in spring. If you'd prefer to do it in spring instead, you still can! Storing your seeds in the refrigerator or freezer over winter will mimic natural cold stratification. Just follow your seed packet instructions. 
In spring, your new garden will likely need some watering and weeding, but as it grows, you'll notice that it may require a bit less upkeep than your regular garden does. Because native plants are already adapted to our spaces, they generally need less watering, pest control, and pruning once they're established. Win win!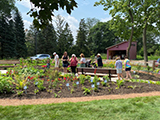 This fall, our Teaching Garden area will be expanding with a Prairie. If you've ever walked through our Teaching Garden, you've probably already seen the area we'll be using, a grassy space along the tree line between the library and the Garlands. Before we created our Teaching Garden in 2021, the site was home to a wooded area overgrown with buckthorn and weeds slowly choking out healthy trees and understory plants. Our landscape architects planted native plant plugs in the area nearest the trees, and while those thrived in the sunny spaces near the garden, they struggled to survive in the shade of the trees. Over the past year or so, weeds have started to compete with the native plants, so we're taking a more active role in the area to preserve this space for our vital pollinators. We're partnering with the University of Illinois Extension Master Naturalists to clean the area up and maintain it going forward. To begin, we'll remove all the weeds from the spaces. Then we'll be collecting seed from the sunny area and resowing it to promote new growth. Finally, our landscapers will mow the shadiest portion of the area, and we'll seed it with local seed gathered by the Citizens for Conservation. A light layer of mulch will hold the seed in place until it has a chance to germinate in spring.
Going forward, the Teaching Prairie will host regular workdays and classes taught by Master Naturalists, designed to teach you to identify native plant species, provide habitat for vulnerable pollinators, and create and care for your own prairie spaces. Watch our newsletter for more information!
Big changes are coming to our Teaching Garden area over the next few weeks! Fall will be here soon, so it's nearly time to put our garden to bed. We'll have a last minute taste of summer this week, but you can expect that the weather is going to cool down soon. Every garden is different, but to put ours to bed, we start by collecting seeds. If you'd like to learn how, stop by our Teaching Garden on Tuesday during workdays, or register for our program on collecting and sowing seed on September 29. We're able to gather a lot of seed from our spaces, and we keep some of it to plant in spring, send some home with our seed collecting volunteers, and save the rest of it for our popular Seed Library. Once our seed has been collected, we'll have an end of the season party to cut and share our flowers with volunteers and customers. Only then can we really put the garden to bed. With the help of our Master Gardeners, we do what's called a chop and drop, where we cut our annuals to the ground. Instead of gathering and composting the foliage, we leave it where it falls and mulch thickly over the top. Over the course of winter, the plant material breaks down in place, and enriches the soil for spring. This is one of the easiest and best things you can do for your future garden, and it's much less labor intensive than many of the alternatives. The only exceptions to our chop and drop are plants with many seeds (like tomatoes) and weeds. You'll want to remove those from your garden and either dispose of them or compost them. Once you've finished this part of your garden clean up, you can plant any bulbs or tubers that you typically fall-plant for spring. That's it!
One final note before you put your own garden to bed: it's always really helpful to take pictures (and even write yourself a few notes!) before you do so. Winter is long here in the Midwest, and it's so easy to forget what was successful, and what you would change come spring planting. This can also help you remember where perennials are, so that you can plan your spring garden around them.