Intersection of Barrington and Church Roads, Streamwood. Hanover Township, Cook County, Illinois.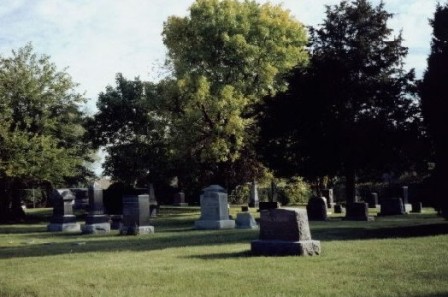 Transcription
Partial transcription, Arnett C. Lines, June 29, 1963; Cathy Trawinski 1999
"There is a cemetery adjacent to the church; no reading has been published. The cemetery has been heavily damaged with tombstones missing and damaged. The records have been microfilmed by the LDS (film #1906282) and are on permanent loan at the Wilmette branch of the LDS library; the records began in 1958." - Pattie Schultz
In Hoosier Grove Emanuel Church Cemetery on B. Road & Schaumburg Rd. So. Of Buttermilk S. Corner.
Sodt, Bertha, Born, 4/29/1897. Died, 4/16/1963. Mother.
Sodt, Frank, Born, 11/7/1891. Died, 1/30/1946. Father. Not related to B. family but are of Elgin ?? and may be related to the ?? of Mauchether? Mich. Which Sr. ? are cousins to BH & Hy Sr. in B.
Kamlage, Herman, Born, 7/14/1828. Died, 5/17/1932.
Kamlage, Louise, Born, 3/26/1843. Died, 5/22/1913. Geb Mueller.
Diekman
Kruckeberg
Dopke
Meier
Garbrecht
Rinne, Karl, Born, 1821. Died, 1874.
Schwanke
Bode, Rich., Died, 3/25/1903. Age, 72/9-11
Other names are:
Heine (many of them)
Berndt
Ackmann
Schuneman, Richard, Elisa, John
Harz, Herman
Fleutge
Krunfus, Herman, Elsie
Lohse
Volmer, Hy
Schunemann
Arens
Schwemer
Schmoldt, Carl, Born, 1837. Died, 1917
Oltendorf
Busche
Humbracht
Borquardt
Volkening, Fred
Heabt (many of these)
Reimer
Hamel
Wichmann, Christ
Quandt
Lambrecht
Schmidt
Ebeling
Schaeler
? Odd cemetery on Batavia Rd. Called "Pioneer Cemetary." 19 Graves left.
Lindsey, M., Died, 3/6/1846.
Benedict, Alfred, Died, 1/19/1851. Age 24. Son of Isaac & Marie.
Miriam, Died, 10/1/1850. Age 76. Wf. of Gen. Thompson Mead.
Mead, Gen. Thompson, Died, 3/3/1851. Age 77. G.A.AR.
Howe, Geo. Hubbard
Howe, Joel, Died, 1843. Age 69.
22nd Des Plaines tundlawn? Ceu?? 521 Chaw? People bd. there. Started by Buffalo Bill W.F.C.
Irv. Pk. Rd. & E. Side of Des River.