1475 W. Algonquin Road, Corner of Algonquin and Roselle Roads, Palatine. Palatine Township, Cook County, Illinois.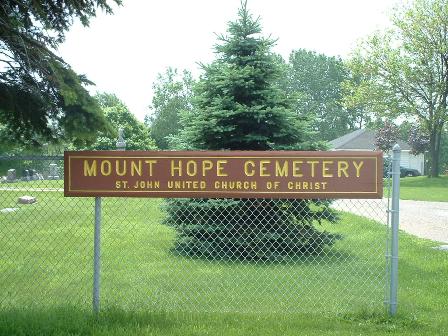 Transcription
Transcription, Arnett C. Lines, date unknown
Wienecke, Louise, Born, 2/6/1825. Died, 9/13/1881. Cousin to Dan Gilly, Sr. Married
Wente - mother of Herman Wente ---.
Wente, Katherine, wf of Heinrich Wente, Born, 8/18/1835. Died, 2/14/1911. Geb. Rust.
Wente, Louis - o Son, Born, 8/10/1868. Died 3/5/1872.
Wienecke, Wilhelmine, Born, 1/24/1830. Died, 9/26/1865.
Wienecke, John, Born, 7/17/1826. Died, 5/27/1901.
Kreft
Hartung
Kersting
Krueger
Helberg
Jadwig
Bicknas
Hunerberg
Schrader
Krieter
Harmering
Berlin
Meissner
Bruns
Waschning
Homeier
Rorke
Othmier
Guseweller
Heide
Jahn
Rohde, Fred H.
Schrasder, Hy.
Bergman
Harz
Freie, Marie, dau. of Theo., Born, 1855. Died, 1858.
Koelle
Vehe
Hothan
Bruns, Christine, Geb. Scheidman, 5/23/1875. Killed in cyclone across M. Rd.
Mensching, Sophie, Born, 2/9/1831. Died, 12/23/1910.
Frey, Katherine M.A., wf of Gerhard Frey, Born 9/29/1808. Died, 5/23/1870.
Hartung, Louis, Born, 11/26/1815. Died, 4/10/1882. son of Eliza Gilly.
Berline, Carl. Grandfather of Berline girls on Hough St.
Wente, K. ??, 1868.
Hatung, C., b. Germany 1798. Dau. Gilly (Sr)'s mother's father.