Algonquin River Road, between Plum Tree Road and Crescent Parkway, Fox River Grove. Algonquin Township, McHenry County, Illinois. Maintained by Algonquin Township. Closed for burials.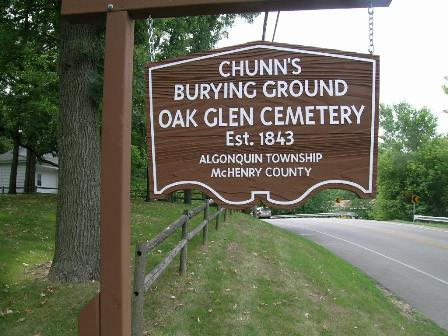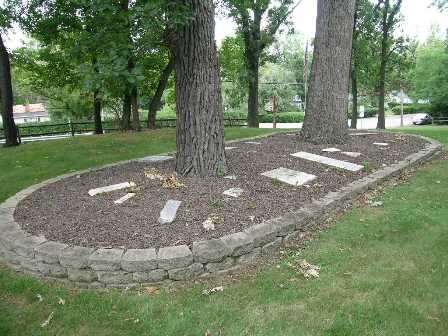 Transcription
Transcription, Arnett C. Lines, September 21, 1944; Cathy Trawinski, November, 1998.
August 3, 1986. Report of Oak Glen Cemetery in Fox River Grove, IL. On Algonquin-River Road between Algonquin Road School and Foxmore subdivision. Weeds and trees cover the area, and the stones remaining are on the higher part near the original Oak Glen school, now used as a rental house.
In my quest for people buried there, I have gone to the Barrington Hist. Soc., and to the Archive Building. They had original notes of Mr. Arnett Lines, referred to in the "History of Fox River Grove" book page 125. These are also on microfilm at the Barrington Library. Only one page referred to this cemetery, and Mr. Lines is deceased.
Film 000068 Arnett Lines notes: Only 2 stones standing at this time in the thicket of brush and trees. As complete as 9-21-1944. Back of the Houghtailing School NE corner Cuba & Algonquin & Fox River Grove Property.
Chunn, Thomas R., Died, 12/26/1843. Age, 53 yr., 11 mo. & ---(worn off). The creek there named after him & on it stood Jaynes Mill up the Creek So. E. & back of Goodrich's So.E of Houghtailing farm.  Father of C.C.
Sarah C., his wife.  Stone broken off
John G., son of Wm. G. and M.A. Kelly.  Died at Rolla Mo (worn off) in defense of his country, 10/7/1861.  Age, 19 yr., 11 mo., 19 d.  John G. Kelly. Co. F. 15th Ill. Ing. GAR stone.  Possibly top of this stone.  Amer. Flag.
Dixon, J.H., Died, 12/13/1866.  Age, 42 yrs., 7 mo., 15 d.
Elvira, wife of C.C. Chunn.  Died, 7/13/1867.  Stone broken.
Mary A., wife of S.C. Jayne.  Died, 9/11/1862.  Age, 26 yr., 2 mo., 6 d.
Addison, son of S.C. and M.A. Jayne.  Died, 10/17/1862.  Age, 11 mo., 15 d.
Mary, wife of Wm. Vence.  Died, 3/31/1855.  Age, 20 yr.
Alma Strick Foden says (7/6/1962) Jack-her nephew by Wellington-went to school-this school; that there were twin boys buried there called Hak/Jak? By school. Miss Shangaard was the lads' teacher-she married Arnold Cheak of Huntley (implement business).