West side of Ela Road, 1/4 mile south of Dundee Road (Route 68), Inverness. Palatine Township, Cook County, Illinois. Maintained by Palatine Township. The gate is locked. Call Palatine Township, (847)358-6700, for entry.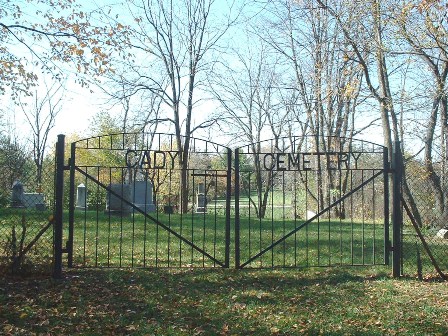 Transcription
Transcription, Arnett C. Lines, 1931. Transcribed by Cathy Trawinski, 1998.
Brother to Hy. T. [who was] in Civil War
Died 1855; Aged 32 years
Abbott, Thursday Ann, wife of B. Abbott, daughter of Ezekiel Cady
Died 1854
Bellows, Warren L.
Died 1854; Aged 32 years
Boothman, George
3/18/1811-4/18/1883
Boothman, Hannah
6/3/1811-3/3/1899
Boyce, John
Died 6/7/1864; Aged 66 years
Boyce, Margaret, wife of J. Boyce
Died 3/18/1886; Aged 69 years
Boyce, Robert
Died 9/11/1883; Aged 27 years
Bryan, Nancy B.
Burrill, Rick
Cady, Ezekiel, pioneer, owned farms
Died 1873; Aged 82 years
Cady, Wilbert, 1st person buried in the cemetery, stone is gone
Died 12/17/1841
Carley, H.
Castle, Fred, son of L.D. Castle
1861-1863
Castle, Ina, daughter of L.D. Castle
1864-1865
Castle, Phineas, brother of L.D. Castle
Clay, William
Died 1855; Aged 64 years
Collen, Charlotte, wife of Joe Collen, 1st husband was William Freeman
Died 7/8/1882; Aged 56 years
Dahl, Fredrick
1827-1881
Edgerton, Isaac
Died 7/8/1848; Aged 81 years
Edgerton, Lebina
7/25/1791-4/2/1883
Edgerton, Lord
Elvidge, Cynthia
Elvidge, Grant
Elvidge, James
Elvidge, John, lawyer on S. Hough
Died 8/29/1850; Aged 39 years
Elvidge, Lawson F.
7/28/1848-9/18/1906
Elvidge, Martha, wife of L.F.E.
10/13/1849-9/13/1899
Elvidge, Nellie
Fosket, John, of the pioneer Fosket family on Baldwin Rd.
Died 2/15/1842; Aged 56 years
Fraas, Kate, wife of S.C. Jayne
Freeman, Chas.
Died 1869
Freeman, Eliza
1810-1893
Freeman, Ester Ann, dau. Of C & E
Freeman, James
Freeman, Mary, daughter of W & E; she was a twin
Freeman, Sam, father of Wm. Freeman
Died 12/16/1848; Aged 64 years
Freeman, William F., probably father of Sarah Page
Galpin
Geary, John, father of Mrs. Jim Kitson
1813-1893
Geary, Julia, mother of Mrs. Jim Kitson
1814-1894
Geary, Theodore G., son of J.A. and J.A., brot. Mrs. Kitson
Died 10/21/1862; Aged 17 years, 7 months
Hall, John A., son of G and E
Died 8/3/1843
Hunewell, Martha, dau. of S and M
Died 9/4/1855; Aged 10 years
Hunewell, Samuel B., was a shoemaker. Lived in fork of Cabble(?) Rd. & Rd. His widor was Edgerton
Died 1/16/1853; Aged 53 years
Lord, Martha
Died 1856; Aged 78 years
Mix, Eliza
1825-1861
Mix, Harriet
1852-1853
Mix, Ira
Mix, Lurenda
Mix, Milton
1842-1845
Moorehouse, Charlotte, 2nd wife of Jos. Moorehouse, mother of Sarah Dearborn(?), grandmother of Sarah A. Otis
Moorehouse, H.M.(?), son of Jos. And C.
Died 7/8/1864; Aged 39 years
Moorehouse, Jos., father of Sarah Dearborn(?), grandfather of Sarah A. Otis
Died 2/1/1877; Aged 86 years
Page, Ann
10/11/1802-9/26/1884
Page, Betsy
1833-1876
Page, George
2/14/1802-10/3/1879
Page, Geo. W.
1842-1866
Page, Lilly May
1/8/1879-9/27/1883
Page, Thos., all part of John Page family of Barrington
Shufeldt, Amelia, daughter of H & M, daughter of Harmon Shufeldt and sister to Emma Eilers
Died 3/10/1866; Aged 14 years
Sutherland, Plinn, son of Sidney & Julia H., Frances Marion dau. of
Swick, Flavius
Swick, H.L.
Swick, Harrison R.
Swick, Sarah E.
Swick, Thomas
1804-1887
Swick, Thos., a son
Swick, Tunis M.
Valkenberg, Ann, wife of Wm.
Died 1858; Aged 85 years
Vanderbogart, Caroline Swick, wife of P. Vanderbogart
3/8/1829-8/7/1894
Vanderbogart, Peter
Died 5/18/1888; Aged 69 years (3/13)
Wilson, Charles
Wilson, Hannah, wife of J. Wilson
Died 9/20/1861; Aged 60 years, 6 months
Some of the graves of the first ones buried in this C. Cem. were lost track of because stones fell over and got covered (as told me by Sarah Page) and that she alone knows where these were buried. Observation is that these were near the entrance in No.E. corner. Wilbert Cady was first one buried there. D. 12/17/1841. Stone is gone. -Arnett C. Lines