Let's read Look Out for the Fitzgerald-Trouts by Esta Spalding, our 2020 Book of the Summer.
It's a funny, adventurous story of four children's quest to find a real home for themselves on an island community full of colorful characters, terrible parents, and – look out! - blood-sucking iguanas.
You can also get involved by coming to one of our Virtual Family Book Clubs, or start your own book club with friends or family using our discussion questions and activity ideas. Tweet us what you think using #BALibrary #BookoftheSummer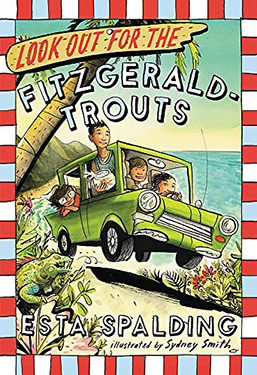 ---

Kim Fitzgerald-Trout took to driving with ease, as most children would if their parents would ever let them try. She had to. After all, she and her siblings live in a car.

Meet the Fitzgerald-Trouts, a band of four loosely related children living together in a lush tropical island. They take care of themselves. They sleep in their car, bathe in the ocean, eat fish they catch and fruit they pick, and can drive anywhere they need to go--to the school, the laundromat, or the drive-in. If they put their minds to it, the Fitzgerald-Trouts can do anything. Even, they hope, find a real home.


---
---
Discussion Questions
1. Kim longs to find a real house for herself and her siblings. What is your home like? Do you think the Fitzgerald-Trout kids would like to live in your home?

2. Kim and Kimo are not technically related, but they feel a deep connection to each other. Why is that? Do you ever feel like you know what a family member or friend is thinking?

3. Kim loves reading her book, The Perfects, while Pippa prefers The Awfuls. Would you rather read a book about a perfect family, or an awful family? Why? (See our booklist for more books about all kinds of families.)

4. Kim feels responsible for doing a lot for her family – with no helpful parents, she has to keep a long and difficult to-do list. What tasks are you responsible for in your family? What do the other people in your family take care of?

5. The Fitzgerald-Trout kids try camping out in a furniture store. Where would you most like to spend a sleepover night?

6. Pippa has a pretty wicked sense of humor. Do you think she's funny? Who in your family makes you laugh the most?

7. When the kids finally find a home that might work for them, Toby isn't sure he likes it. Why do you think he's not quite happy?

8. A few of the characters believe that aliens from outer space were the first settlers of the island. Why do you think they believe that? Do you believe there might be other creatures like us out in the distant universe?

9. Who is the narrator of this story? How is this person connected to the Fitzgerald-Trouts?

10. Look Out for the Fitzgerald-Trouts has two sequels. What do you think will happen to the Fitzgerald-Trout kids in their next adventures?
Activities:
1. The Fitzgerald-Trouts have a unique family tree. Try making your own family tree. Ask your family members about your relatives. Look at photo albums, or try out the Library's genealogy databases.

2. Make a map of your "island" – your house, neighborhood, or community, with some of your favorite or most interesting spots.

3. Kim loves to make lists to stay on track. Write a list of your summer goals.

4. Pippa loves fonts. Try writing letters in a new style - maybe Pigeon Font! Use a computer, website (try dafont.com), or book to find type in lots of different styles. You can even make up your own font.

5. Kimo is handy at fixing things. Learn a little bit about car or bike mechanics in a book, or in person! Just ask a grownup for help.

6. Toby loves the forest. Take a local nature walk and discover the local plants and animals around you. (Don't worry; no blood-sucking iguanas in Northern Illinois!)

7. Create a work of art inspired by Look Out for the Fitzgerald-Trouts.

8. Write your own story inspired by a funny or exciting thing your own family has done.

9. Act out a scene from Look Out for the Fitzgerald-Trouts. If you want, you can film it and send it to the Youth Services email account!