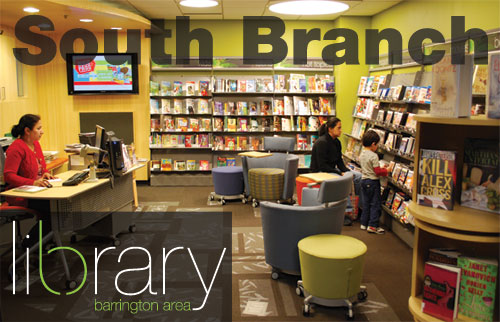 The Library's South Branch is located inside South Barrington Club at 3 Tennis Club Lane. Drop in for popular books, movies, magazines, picture books and wireless Internet access. Take a virtual tour of South Branch on Google Maps.
If you live in the Barrington Public Library District (see a map) and need a library card, you can register at either the Main Branch or South Branch. We also honor cards from other public libraries.
Automated pick-up lockers allow you to request items online from our Main Branch and have them delivered to South Branch (or three other spots around town). You can pick up those items any time South Barrington Club is open, even if South Branch is closed.
Indoor and outdoor book returns at South Branch make it easy for you to get your library items back to us, 24/7.
South Branch
at South Barrington Club

3 Tennis Club Lane
South Barrington, IL 60010
847-381-2534

Hours:
Mon - Thurs & Sat:
9 AM - 1 PM
Mon & Thurs:
3 PM - 7 PM