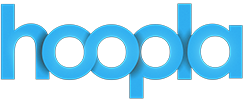 Stream up to eight movies, TV shows, or audiobooks every month on your computer or mobile device!






To get started, access hoopla and click on Sign up today at the bottom of the page.


Agree to the terms of use, enter your e-mail address and create a password for your account.


Choose Barrington Area Library and enter your library card number and PIN/password.


Click register and begin browsing our collection of streaming video and audio. Please note that hoopla uses streaming media and performance will depend on your Internet speed.
Download instructions for using hoopla on a computer (PDF Word) or on a mobile device (PDF Word).
---
See what we've got at BALibrary
Check out the Hot New DVD newsletter (updated monthly)
Blu-ray: Browse the library's collection of Blu-rays.
Television: Catch your favorite series on DVD.
Foreign Films: Browse the foreign film collection by language.
---
 Online Resources
Library of Congress' American Memory Collection: Hundreds of early short films and videos are available to stream and download. Watch late 1800s and early 1900s Americans at work, at leisure, in vaudeville, in New York City and more.
The Internet Archive: Thousands of free downloads of films and videos.
Hulu: View popular current and past television shows free online.
The Internet Movie Database: Details on everything related to movies.
Rotten Tomatoes: Features the consensus opinion of professional critics from across the nation.
Metacritic: Published reviews and user reviews combine for a metascore.
Get short lists of the newest book, DVD, CD titles and more.
Sign up for email alerts