What's on right now in the Gallery?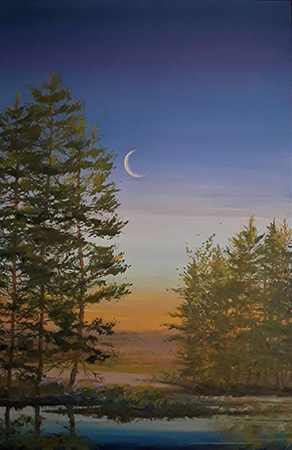 Jan 7 - Feb 21, 2020:
Ellen Powell Anderson, Oil On Canvas
What We Drink In
Follow Ellen's latest paintings on fb: Ellen Anderson (Mequon, WI)
Visit Ellen's website: ellenandersonpaintings.com/

Ellen Anderson's paintings are available for purchase.  Please email her for more information: ellenandersonarts@gmail.com or request a price and information sheet at the Library's Customer Service desk, or download the PDF price list here.

"Growing up in the countryside of Barrington, my early years were filled with animals, fields and forests. I have never lost my appreciation and love for our natural environment, and am now an advocate for preserving our wild spaces. The oil paintings in the Library Gallery are of nature, sans human intervention. I hope they draw you in, as places you want to be, places you want to preserve, too. Miles from Kelsey Road, my former home, I now paint in my studio on the Milwaukee River in Mequon, Wisconsin.

"Before oil painting, I developed a nationally sold greeting card line, selling up to 250,000 cards annually. Children's books are also of special interest, and I have illustrated about 15 published books. I have illustrated for The National Wildlife Federation, and others, and currently illustrate a series of children's books for Kohl's Building Blocks/Penfield Children's Center, about understanding differences. Working in watercolor/gouache for many years informs the often-thin layers of atmosphere the oils start with. I have illustrated many books, including currently the Kohl's Building Blocks/Penfield Children's Center children's books about understanding differences. Painting small for illustrations have led me to now love painting large. My artistic awakening at Barrington High School, which included oil painting, lost wax jewelry work, silk screen, etching and litho printing, soapstone and fiberglass sculpting and more, gave me (and I am sure many artists) the confidence to develop my work."


Cedarburg Artist's Guild, Board Member ~Wisconsin Visual Artists, Member
BFA Rockford University, Rockford, IL
Barrington High School
2020 Shows:
Aldo Leopold: A Sand County Almanac Visualized; Schleuter Gallery, Milwaukee WI. Group Show 2-21-20 through 4-4-20
Solo Show: The Outpost, Mequon WI 3-1-20 through 4-31-20
Solo Show: The Schlitz Audubon Nature Center, Bayside, WI 6-1-20 through 6-30-20
Solo Show: Lake Forest Library, Lake Forest IL 8-1-20 through 9-30-20
Covered Bridge Art Studio Tour, at my studio Fri 10-9-20 4-8 p.m. Sa/Sun 10-10 & 11 10 a.m.-5 p.m.; 1 of over 50 artists opening studios that weekend
Solo Show: Washington House Inn, Cedarburg, WI 11-1-20 through 11-31-20
Partial List of Published Books:
The Great Silent Grandmother Gathering by Sharon Mehdi, pub by Viking Penguin Putnam; American Booksellers Top 50
Mother Makes a Mistake by Ann Dorer, pub by Gareth Stevens, Inc.; 3 printings
The Great Getaway, by Olga Cossi, pub by Gareth Stevens, Inc.
Mr. Lincoln Goes to Washington, by Barbara Behm
Mr. Lincoln Goes to Hollywood, by Barbara Behm
Wilder's Fantastic Five, by R. Michelsen and S. Shabangu, pub by Kohl's Building Blocks
Everyone Can Be a Friend, by R. Michelsen and S. Shabangu, pub by Kohl's Building Blocks
Learn to Sign with Jackie by Cristina Moreno and Rebecca Michelsen, pub by Kohl's Building Blocks
My First Christmas Story, pub by Avon (w figurines)