Nice to meet you!
Stop by and say hello when you come to the library. We're happy to answer questions and suggest books or movies. We also love when you tell us about a great book to read and we have a special surprise waiting for kids who get their first library card! Contact us.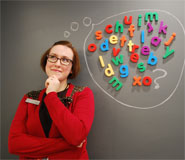 Allison
I'm so happy to be a Youth Services Librarian at BALibrary. I love reading all kinds of stories, especially ones with a little bit of magic in them. I love to talk about books as much as I love to read them, so please tell me about the great book you just finished! If I'm not reading or helping people at the library, I'm probably playing with my two adorable Boston terriers, Samwise and Frodo.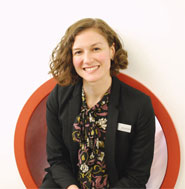 Aly - Head of Youth Services
As the Head of Youth Services, I love reading, finger painting, and singing, "If you're happy and you know it," with a chorus of preschoolers! Some of the best things about my job are finding just the right book for an excited new reader and inspiring a love of reading in children. Let's find new ways to explore, discover, create, and have fun in the library. When I'm not at work, I'm riding my bike around town, baking, or playing the ukulele.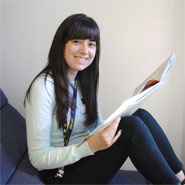 Alyssa
I am thrilled to be working as a Youth Services Assistant Librarian at the Barrington Area Library! As a longtime lover of children's and teen literature, I'm excited to help kids find the perfect books to read. I love all genres, but my favorite books are fantasy and historical fiction. When I'm not working, I like to dance, write stories, and, of course, read!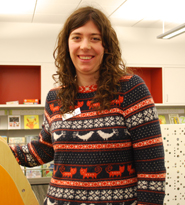 Ann
As a lifelong reader of children's literature, being a Youth Services Librarian has always been the perfect job for me! The best part of my day is when I connect people to the perfect book, movie, or website. I also enjoy helping children explore and create with technology. My favorite books to read are fantasy and science fiction, and I never go anywhere without a good book to read.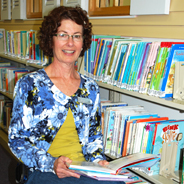 Julie
As an Assistant Librarian, I help plan and run drop-in craft programs, present story times and keep the picture books and beginning readers organized. I enjoy all kinds of books—from chapter books to adult novels. My favorite genres are fantasy, realistic fiction and mystery. I am always listening to audiobooks: in the car on my drive to work, and on my iPad/iPod at home. My interests include gardening, animals, sewing, and crafts.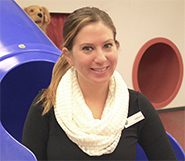 Katherine
I am delighted to be part of the Youth Services team. As an Assistant Librarian, I enjoy finding books and engaging in activities for children and their caregivers. Every chance I get, I am reading and listening to books, especially Non-Fiction and Mysteries, using my iPad. Let's jump into the charm of this awesome library and grow together.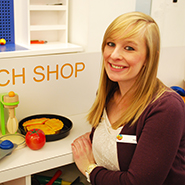 MaryJo
As a lifelong reader of children's literature, I am ecstatic to be an Assistant Youth Service Librarian in this wonderful Youth Services department. I love talking about books and helping everyone find the perfect read. Fantasy, mystery, and adventure books are my favorites, but I am always up for suggestions. Before the library, I worked for the big mouse himself, Mickey Mouse, at Walt Disney World, and love talking about Disney. I enjoy puzzles, baking, and getting crafty, too!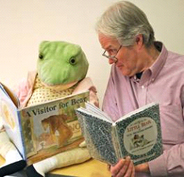 Mitch
I have been a Youth Services Librarian since 2007. Before that, I worked for many years as a broadcast journalist. I enjoy "shaking my sillies out" at library storytimes, working with children at the reference desk, putting together large stacks of books to send to local schools, and of course reading children's literature. I live in Barrington with my wife and daughter, and I was a regular library visitor long before joining the library's staff.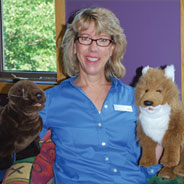 Nancy
I have always had a passion for working with children, whether I'm reading to preschoolers, or in the craft room helping the next Picasso create a masterpiece! Before becoming an Assistant Librarian, I worked as a preschool teacher, Scout leader and swim instructor (my other passion). My ideal day would be sitting on the beach with my family, reading a really good book! I enjoy reading realistic fiction, but have been known to peruse the cookbooks to no end.