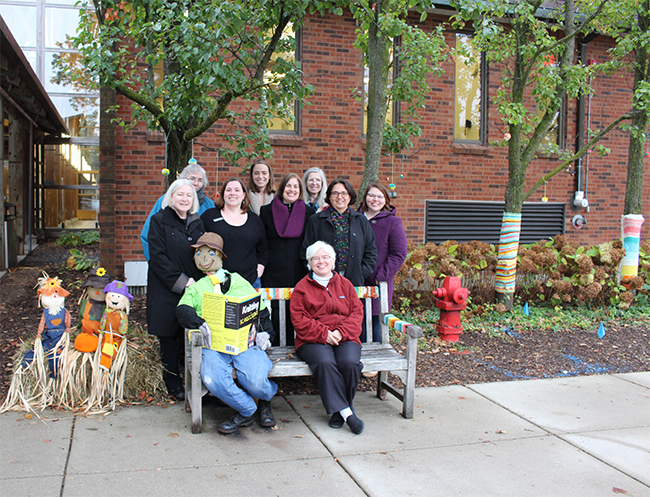 Remember Elaine, the beautiful art installation created by artist HOTTEA for the library's atrium? HOTTEA used almost 1,700 pieces of colored yarn for that project
, and as we came closer to the time when the work would be deinstalled, many of us at the library had a question: what could we do with all that yarn? We pride ourselves on being resourceful and creative, so it just didn't seem right to simply throw away the pieces of yarn that had brought our community so much joy.
Graphic Artist Lynn Van Dorn and Public Information Manager Karen McBride harvested every piece of yarn and rolled them up into skeins and then...
a hard-working team of library staff members took the yarn home and made the magic happen. In the photograph, left to right: Material Services Manager Sharon McDonald, Material Services Associate Sharon Krasel, Adult Services Librarian Liz Kirchhoff, Adult Services Assistant Librarian Corinne Groble, Customer Service Senior Associate Laura Morici, Adult Services Librarian Kate Mills, Customer Service Associate Lucy Down, Interim Executive Director Vicki Rakowski. Seated in front: Scarecrow, Graphic Artist Lynn Van Dorn. Not pictured: Adult Services Assistant Librarian Ivy Dally, Customer Services Senior Associate Nalini Jayaraman.
Lynn had conceived of a way to use crocheted and knitted pieces to wrap the library's benches and tree trunks. Since there was so much yarn, the team's creativity expanded to covering some of the library sculptures, too - Customer Services Senior Associate Laura Morici made a cozy hat and wrap for our reading mother and child statue! Look around and you'll find colorful yarn in other surprising places here at the library.

We hope this dazzling display of homemade handiwork makes you smile and brightens your day when you visit us. You may not know that Elaine was named in memory of the mother of a library staff person. We're pleased to call our new art work Dorian, to remember and honor Dorian Stoesser, our co-worker and friend of 17 years, who passed away suddenly a few months ago.