Located on the first floor in the Business & Technology Center, the MakerLab gives Barrington Area Library cardholders access to a variety of cutting edge tools including 3D printers, a laser cutter, and vinyl cutter. The MakerLab also features MakerKits for a range of age levels and technical abilities. There is something for everyone, so stop in today and make something at your library!

The Cameo is a versatile cutting machine that uses software to cut intricate shapes, stencils, patterns, & designs on a variety of materials including adhesive vinyl & cardstock. Barrington Area Library cardholders may bring in & cut their own approved materials.
How to Use Silhouette Software (Instructional Video)
Make this project in MakerLab:
Pop-Up Greeting Card

Approved Materials
Vinyl, paper, cardstock, scrapbook paper, & heat transfer material.
Materials available for purchase
8" x 12" adhesive vinyl (sticker paper) - $1.50
8.5" x 11" cardstock - $.10
File Formats
STUDIO3, STUDIO, GSD, DXF, PNG, JPG, BMP, GIF, TIFF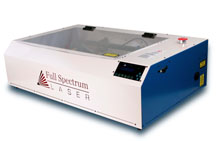 The Full Spectrum Laser is able to etch & cut wood & acrylic & will only be used in library programs and MakerLab Open Shop.
To view upcoming programs, please visit our Events Calendar.
For questions about custom materials, please contact mcampagna@balibrary.org
Materials available for purchase
3.5" x 3.5" x 1/8" Acrylic - $2.00
3.5" x 3.5" x 1/8" Bamboo - $2.00
Barrington Area Library cardholders may use one of the 3D printers at a cost of $1 per 30 minutes, up to 2 hours per project. Staff will not begin any job within 1 hour of closing and patrons need to pick up their project after completion. The project must allow an additional 30 minutes (no additional cost) from the estimated finish time. The Barrington Area Library will not print weapons or look alike weapons.
Getting Started: Download or design a project
Download a project file from Thingiverse OR Design your own 3D file with Tinkercad.
Instructional Videos:
Download a 3D file from Thingiverse   (VIDEO)
Tinkercad 3D Design for Beginners      (VIDEO)
Import 3D File to MakerBot Desktop    (VIDEO)

File Formats
STL, OBJ, THING, MAKERBOT

MakerKits
MakerKits are a great way to begin tinkering in the MakerLab & feature hardware to support a range of technical abilities. Kits can be checked out by Barrington Area Library cardholders for two hours, for use in the MakerLab. Please note that a parent or responsible caregiver (age 16 or older) must accompany and directly supervise children age 8 and younger.
Software
MakerLab has laptop computers for use within the space. Software includes: