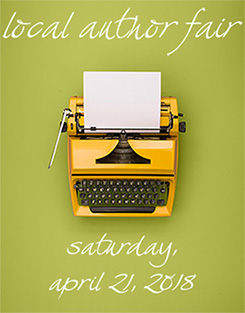 Chicago-area authors: apply now to be part of our fourth annual Local Author Fair! The fair takes place on Saturday, April 21, 2018, from 1 - 4 PM.
Authors are invited to bring their books and marketing materials to share with our enthusiastic community of readers. Please note that space is limited, and that preference will be given to authors from the Barrington area.
This popular event fills up quickly, so please apply soon. The final deadline to apply is April 2, 2018
, but that date may change as the number of applicants increases.
Apply online now.
Questions? Please contact Adult Services Librarian Liz Kirchhoff via email: lkirchhoff@balibrary.org. We hope to see you at our Local Author Fair!